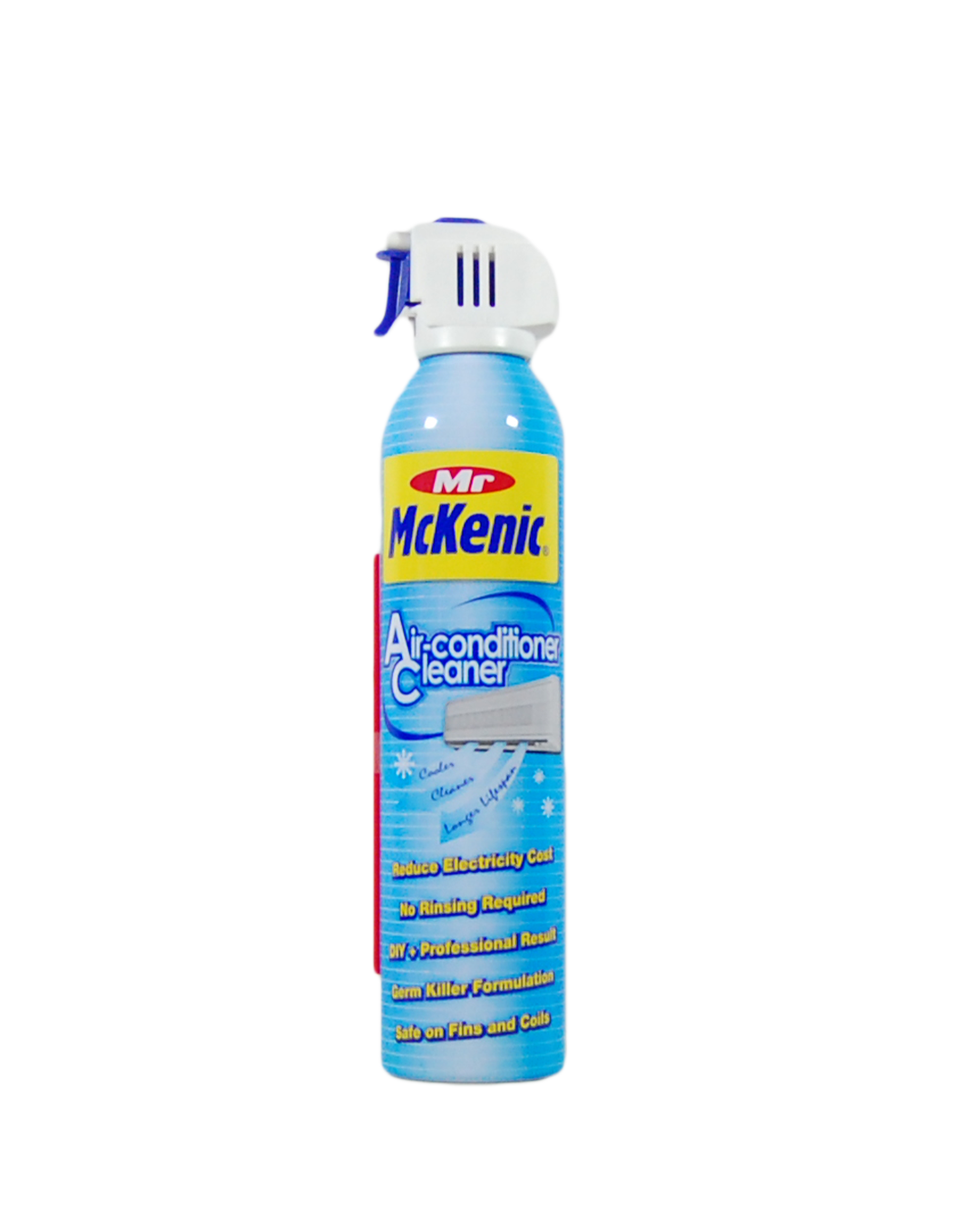 Mr McKenic Air Conditioner Cleaner 374g
Conventional methods of cleaning the air conditioner units are generally complicated & tedious and engaging professional services are often costly. The Do-It-Yourself concept from Mr McKenic®- Air-Conditioner Cleaner offers a simpler and more cost-effective alternative for your regular maintenance routines.
Mr McKenic®- Air-Conditioner Cleaner contains an unique and tested formula that clears dust and eliminated harmful micro-organisms trapped in air-conditioners, without the need for rinsing with water after application of the product.
Formulated with a high penetrating ability that reaches into the inaccessible finned areas, Mr McKenic®- Air-Conditioner Cleaner clears dust and dirt trapped within. This improves cooling efficiency and saves on electricity bills. Most importantly, its anti-bacterial property improves air quality and promotes cleaner air.
Product features:
Cleans Built-Up Dust & Dirt Effectively.
Improves Indoor Air Quality
Improves Performance of Air-Conditioner Units.
Saves on Electricity Bills.
Contains No Harsh Chemicals
Simple Application With No Rinsing Required
*Safe on Air-Con Fins and Coils
* Tested and Certified by Singapore Productivity and Standards Board (PSB)
Application for use:
Mr McKenic® - Air-Conditioner Cleaner (Self-Rinsing) is safe for use on all brands of air-conditioners. It is used on split-unit air-conditioners, window units with drainage outlets and even refrigerator coils.
Direction for use:
For Aerosol Packing
Switch off air-conditioner unit and open windows for ventilations. Open casing to remove dirty filters for washing. Use a vacuum cleaner or brush to remove thick layer of dust on coil fins.
Shake Product Can well before use. Position can approximately 10cm away from the coil fins.
Spray Mr McKenic® - Air-Conditioner Cleaner to create foam in an S-motion from top to bottom. Do not cover more than 1/3 of coil surfaces.
Allow 15-20 minutes for the foam to penetrate inwards.
Replace clean filters and casings and switch on the air-conditioner for about 45-60 minutes to start the cleaning process.
For best results, set air-conditioner to about 24°C and put on to high fan mode during cleaning. Apply at least once a month.
Watch the tutorial video!